Opening Ceremony – Highlights
There will be no Opening Ceremony in 2020.
Have a look on our Opening Ceremony in 2019:
Like every year, we also have planned in 2019 an opening ceremony that will be an extraordinary event for spectators and participants alike. We want to show martial arts on a high level as well as performances from the wide area of music and culture. The Opening Ceremony of the Vienna Taekwondo Festival 2019 will be special. With the U-Chong Global Master Team from Germany we are presenting a well known international Taekwondo demoteam. And: for the first time the traditional Korean martial art Sibpalki will be demonstrated in Austria! The full program is here:
---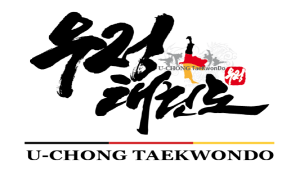 We are glad to announce a very special highlight of our opening ceremony, the
Global U-Chong Taekwondo Master-Team
The Global U-Chong Taekwondo Master-Team is comprised of several Korean Taekwondo Masters. Besides their work as leader and trainer of the U-Chong Taekwondo Schools in Munich and Fürth, they strive towards spreading Taekwondo in Europe by holding national and international seminars  and demos, as well as to develop the global U-Chong network. Not only do they put effort on teaching Taekwondo as such, but also to establish a cultural bond between people from different parts of the world through Taekwondo. This becomes evident also in the name of the team: U-Chong is the Korean word for "friendship". The masters of the Global U-Chong Taekwondo Team aspire to make everyone a real friend through Taekwondo. The members of the Master-Team are:
Grandmaster Jae Hee Chang (8th Dan)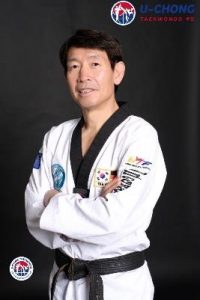 – Graduate of Yong-In University in Korea
– Two time Korean Taekwondo-Military Champion
– Technical Director of the Slovak Taekwondo Federation
– Ex-Head Coach of the Bavarian Taekwondo Union
Master Inyong Jo (7th Dan)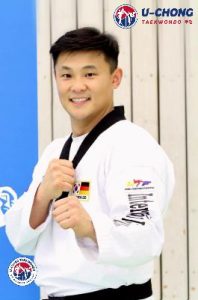 – Graduate of Yong-In University in Korea
– Korean Taekwondo-Military Champion
– Ex-Leader of the Yong-In University Demoteam
Master Joonpil An (5th Dan)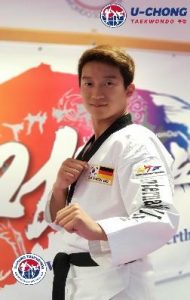 – Graduate of Yong-In University in Korea
– Ex-Leader of the Yong-In University Demoteam
– Member of the Kukkiwon Demoteam 2016
---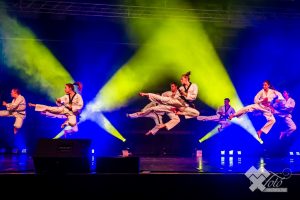 The demoteam Mate Taekwondo from Hungary will again thrill the spectators with their perfect show. Lsst year they have been the surprise guest and they have become the favorite of the spectators
---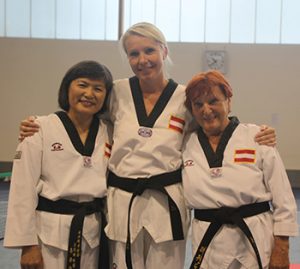 The MUDOKWAN Ladies Team again has rehearsed a special music poomsae. "Right Now" from Korean Pop-Rapper Psy ("Gangnam Style") constitutes the background for a thrilling Taekwondo choreography.
---

Like every year, again we invited some representatives of the vivid K-Pop-scenery. This time we have two groups from Vienna: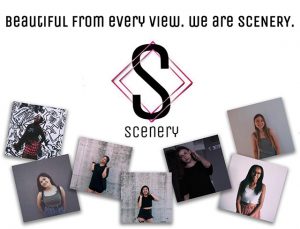 SCENERY – We are 7 girls coming from various countries who like to dance. Whatever it may be: K-Pop or Hip-Hop. Our name means that our performance should be like a scenery to everybody: beautiful, pleasant and breathtaking.
We are admirable on all hands. We are SCENERY.
---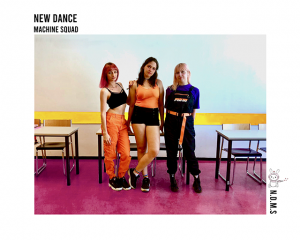 NDMS – Three girls from NDMS, a four-member-group from Vienna, have tried all summer long – no matter the heat of the summer days –  to bring up a performance that will match the energy of the participants of the Vienna Taekwondo-Festival! They do hope that you will have as much fun watching them as they had to learn their choreography!
---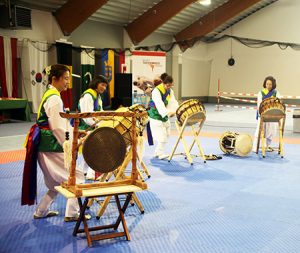 SAMULNORI
The Vienna Samulnori Group brings original Korean drum music into the sports hall and will make the audience jump from their seats when performing their barnstorming drum rhythms.
"Samulnori" means "To Play Four Things" and refers to four different drums that are played at occasions like folk festivals or various grand openings. So, this fits perfectly for showing the connection between Taekwondo and Korean culture.
---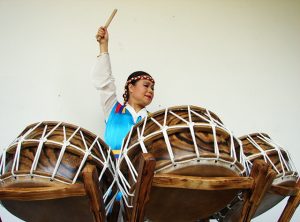 Sung Hee Kalinka is a well known Korean drum artist who is living in Germany. She teaches and performs drum music with various traditional Korean drums.
---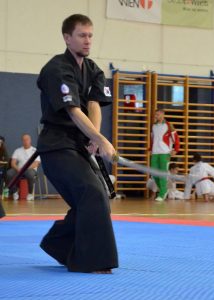 Korean sword fighting will also be present again at the 2019 Opening Ceremony – demonstrated by the HDGD-Group Vienna led by Siegfried Koller.
---